Renowned for its cleaning power and eye-catching packaging, we asked our client, Oven Pride,
to put us to the test; conceive and roll out a comms campaign aimed to drive penetration amongst
the young LGBTI community- a previously unexplored market.
Objectives
Rather than our client tasking us with a new campaign, we instead asked Oven Pride to challenge us to come
up with a stand-out comms push that would serve to target a previously untapped market in the LGBTI community.
In order to do this, we needed a concept that was at once eye catching and functional- taking inspiration
from the product's striking packaging and excellent reputation for performance.
Strategy & Plan
Using client and market data between 2014 and 2016 we concluded that an emergent younger
audience was being ignored – those in transient living arrangements, for example tenants who
frequently change address and needed to clean their home, including ovens, more frequently
We needed to place the Oven Pride product in the hands of this demographic, whose social feeds
are already filled with brand noise, and understood the best way to do this was through a 'for the good' approach.
A key influencer was needed, so we signed up Kim Woodburn, a recognised cleaning expert from
the TV show 'How Clean Is Your House', with a larger than life public persona, who would appeal
to the new audience without alienating the established customer base.
A major LGBTI event would provide the ideal tie-in, so we played on the brand name and created
#ProudAtPride, linking to one of the UK's largest Pride events, Manchester Pride 2016.
Kim featured in all online communications, including fan acquisition ads that ran as part of the
day-to-day Oven Pride Facebook activity.
Manchester Pride 2016 was tagged in all posts, with special 'countdown content' used on the day
of the event, letting fans know when they would have the chance to meet Kim.
Fans were set a challenge of scrubbing gold paint off their ovens using Oven Pride, demonstrating
the power of the product and giving us excellent live stream content, boosting organic reach through the use of Facebook Live.
We offered all participants branded t-shirts and tote bags to carry their belongings in during the
Pride celebrations, giving even more exposure to the brand name.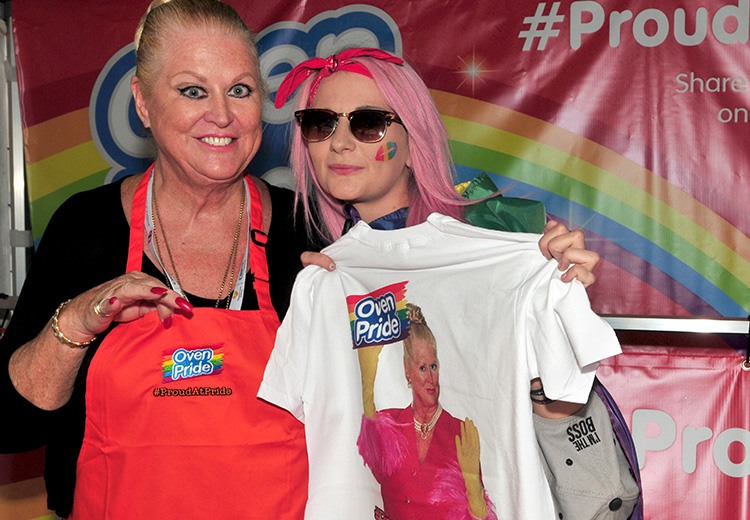 Measurement & Evaluation
We wanted to demonstrate the effectiveness of our campaign through a year-on-year analysis,
for the period 24th – 31st August 2016, pledging to:
Double Facebook post engagements
Treble Facebook post reach
Maintain Facebook engagement rate
Double tweet engagements
Treble tweet reach
Maintain tweet engagement rate
We also pledged to increase web traffic from social, knowing that users arriving on the Oven Pride site
are likely to watch the brand's how-to instruction videos, leading to their buy-in. This included:
Treble social referrals to the Oven Pride website
In order to deliver 360-degree results, we also promised:
Media coverage with a circulation  of 1,000,000
Data capture of 200 active users for onwards marketing
Results
We surpassed all KPIs for the campaign, with stand out results including:
Double Facebook engagement – 5,378 2016 vs. 148 2015 = 3,533.8% uplift
Treble Facebook post reach – 241,054 2016 vs. 9,925 2015 = 2,328.8% uplift
Maintain Facebook engagement rate – 2.2% 2016 vs. 1.5% 2015 = outright increase of 0.7% and uplift of 46.7%
Double tweet engagements – 1,535 2016 vs. 35 2015 = 4,285.7% uplift
Treble tweet reach – 28,572 2016 vs. 4,735 2015 = 503.2% uplift
Maintain tweet engagement rate – 5.4% 2016 vs. 0.7% 2015 = outright increase of 4.7% and uplift of 671.4%