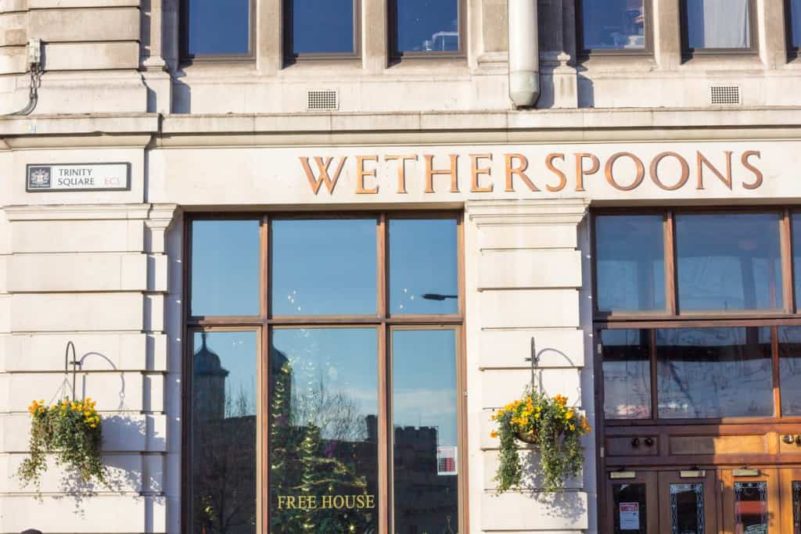 Over the weekend news hit that the UK's best-loved cut-price pub chain was closing all its social media accounts— both centralised and for each of its 900 or so individual sites— sparking widespread debate as to why this decision has been made. Let's look at the angles, then.

The naysayers 
Unsurprisingly, many experts, analysts and members of the public were quick to suggest the Wetherspoons Facebook and Twitter cull is nothing more than a publicity stunt, designed to create valuable headlines and brand mentions, many of which, perhaps ironically, have appeared on the same networks the company has abandoned.
"You would have to be completely off your rocker to do a publicity stunt … which banned the medium which is supposed to give you the most publicity,??? Tim Martin, Wetherspoons founder, told BBC News in response.
He makes a good point— as experts in PR, marketing and social media for business we can't figure out how this would work that well as a stunt to try and garner attention.
The truth speakers
Another popular theory links the closure to negative sentiment surrounding the brand on social media. Weatherspoons, or at least the big bossman Tim Martin, was extremely vocal in support of the Leave referendum campaign, and the backlash against the firm as a result of that has been highly visible as the UK struggles to come up with a robust and comprehensive plan for next year's EU exit.


Facebook's user reviews also add to this theory— many of the individual pub accounts have extremely low ratings from customers, with the head office account only mustering a disappointing 1* average review. None of which suggests Wetherspoons would be particularly keen to maintain its accounts.
Pub watch 
If engagement hasn't been particularly kind to Wetherspoons, then social media has been nothing short of damaging for the pub industry as a whole. As more and more social interactions take place in the home, via digital platforms, fewer and fewer people are heading out to meet friends for drinks, and the biggest victim of this change in national habits has been the pub.
But while this would perhaps suggest one of the biggest names in the industry might want to take a stand, realistically closing down social media accounts isn't going to solve the problem— it's more than likely going to create an even bigger rift between pubs and the social media users. It would arguably be far more effective to try and harness the potential of the networks in order to drive footfall to pubs.
Moral dilemma 
This one comes direct from the horse's mouth, so to speak. Tim Martin claims his company has abandoned social media because of a perfect storm of bad news surrounding the networks. The Cambridge Analytica-Facebook scandal, trolls on Twitter, extremist material and cyberbullying have, apparently, been the final nails in the Wetherspoons social coffin.


Worrying numbers 
According to this article in The Guardian, Wetherspoons has failed to make the most of its social media accounts. Claiming just under 45,000 Twitter followers and around 100,000 Facebook fans isn't that impressive for a major household name, and many of the individual pub accounts have been incredibly lacklustre in posting fresh content.
This means that although we are constantly being told social media is an essential business tool, in the case of Wetherspoons this probably isn't the case— the platforms are only worth the effort account owners put in, so it's easy to see why the chain could close its accounts without much fallout.
The old whistleblowers 
The final viewpoint to consider is that of former staff, specifically the old Wetherspoons social media team. As per this report by Metro, an account named @jdwt**ts has appeared, which claims to be The Account Formerly Known As Wetherspoons, and the output has been fascinating to say the least.
Posts seem to accuse Wetherspoons of lying when it comes to the rationale behind closing its social accounts down. Rather than the decision stemming from the 'dark side of social', for want of a better phrase, it apparently results from the powers that be panicking over apparent 'misuse of email lists'— something which, in the run up to GDPR next month, would rightly worry any major company.


Our conclusion 
In all honesty Smoking Gun's jury is out on this one. With so many conflicting statements circulating, and little chance of us being able to work out who to believe, it comes down to who you'd prefer to side with.
The disgruntled Twitter account in itself highlights one of the biggest problems with social media as a news source— confirming legitimacy— while official statements from Wetherspoons assume trust in the brand.
The overall question— will this be a watershed moment for UK businesses on social media?— is a little easier to answer. In a word, 'No', we're almost 100% sure this will not inspire a mass brand exodus from social media platforms.
While we will all know some personal users who have voted with their feet and deactivated their Facebook accounts in protest at the data scandal, and some companies may be following suite, the idea that a wholesale departure is imminent stretches the limits of believability.